With the different dietary alternatives based solely on plant protein and nutrients, it is important to gather information on seeds composition, allowing each person to tailor the elements of their diet according to their needs.
Here, we performed nutrient and protein profiling of 92 accessions of legumes grains, more specifically:
24 accessions of lentil
4 of vetch
6 of chickpea
10 of lupin
25 of pea
11 of grass pea and
13 of faba.
Regarding the micronutrients iron (Fe), zinc (Zn) and manganese (Mn) concentration, lentil seeds had higher Fe concentration, whilst vetch had higher Zn and lupin higher Mn.
We also analysed the macronutrients calcium (Ca), magnesium (Mg) and potassium (K), and lupin seeds presented higher values for Ca and Mg, but low K, while the other species had similar K values.
Regarding protein content, again, lupin seeds were the ones with higher protein content.
The market is increasing its demand for new plant-based food products and it is important to select the best grains in order to obtain the most nutritious and delicious meat-free alternatives. Lupin seeds relevance in food trends is increasing and here we show their valuable nutritional profile, making this a good alternative to soybean and an attractive crop to exploit.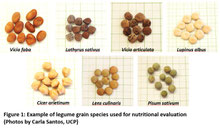 Authors:
Carla Santos
Marta Vasconcelos