As part of the TRUE project, IGV experts will fractionate various legumes in their own pilot plant for the production of protein-enriched products. After successful completion of the experiments with different legumes and different comminution stages with the laboratory extruder, further impulses can be given to visitors of IGV and interested parties.
The IGV regularly offers courses for master students of the bakery sector, in which various dough processing techniques are presented. Here the apprentices can see how pasta can be processed and produced. Therefore an own recipe for the homemade protein pasta is used, which consists mainly of yellow pea flour. First the humidity of the raw materials is determined and the exact amount of water is added to reach the final humidity of 30%. After mixing the raw materials and the water, the mass is still free-flowing, which is extremely important especially for dosing the single-screw extruder for pasta production. If the recipe is not free-flowing, it could lead to blockages inside the machine and discontinuous dosing.
For the demonstration of extrusion in the master class, the parts of the small extruder are heated beforehand so that the mass can be easily processed. This type of small-format production is part of cold extrusion and can be used very well for demonstration purposes. It is important for IGV that within the different master classes also smaller excursions to other areas are offered in order to give an understanding for the production of other products.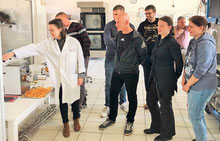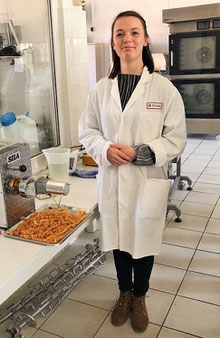 Authors:
Nora Löhrich
Martha Walter