What do all TRUE project partners have in common? They all want to revive the diversity of legumes on the fields and on our plates. This is where Slow Food Germany comes in: within the framework of the TRUE project, we are working on giving legumes more value and on raising awareness about their role for a sustainable diet so that they can eventually find their way back into European kitchens.
Slow Food therefore creates the cookbook "TRUE-Foodprint: Legume Recipes to Promote Sustainable Food Systems", containing legume recipes including Italy, Germany, Georgia and the Balkans. The recipes are complemented with historical background knowledge and information on the ecological footprint and nutritional values. (more info ...)

The Slow Food fair in Stuttgart, which took place in April 2019, was a great place to search for unusual legumes and recipes. Among the exhibitors who are committed to Slow Food's philosophy of "good, clean and fair", we found some interesting beans and peas along with the people who produce them and their stories. During the fair the panel discussion titled "Powerhouse legumes: 1: 0 for legumes in the fight against Micro Meals" was also dedicated to legumes and saw the participation of Daniel Diehl (Slow Food soil expert), Henrik Maaß (TRUE project manager at the University of Hohenheim) and lentil farmer Lutz Mammel (Lauteracher Alb-Feldfrüchte).
The Lauteracher Alb-Feldfrüchte producers' association is a flagship project of reviving the lentil production in a common effort on 300 hectares of land. The Mammel family also cultivates the Späth's Alblinse I and II, an old cultural lens variety of the 1940s, which was lost for a long time. Today, after the rediscovery in Russia, it is once more cultivated on the Swabian Alb in Germany. With the Ark of Taste, Slow Food protects and promotes endangered traditional breeds, crops and foods and helps to prevent the extinction of our culinary and cultural heritage. The traditional Swabian dish "Linsen mit Spätzle" - a German noodle dish with lentils, is already part of our recipe collection and can be prepared with these lentils. The lentil variety originates from the Neolithic primeval and wins consumers over with its intense, aromatic and nutty taste. The cook of this dish prepares it in third generation and has already passed the recipe on to his children.
We hope that our cookbook will have a similar effect and that the diversity of legume recipes will spread throughout Europe, so that everyone can enjoy old, forgotten varieties. Eating these old varieties will help safeguard them, because if there is a demand, then producers will continue to cultivate them! Please feel free to send us your recipe suggestion below: https://umfrage.slowfood.de/index.php?r=survey/index&sid=426789&lang=en
Slow Food is a global network committed to a sustainable food system as well as to preserve biodiversity and small-scale, artisanal food production.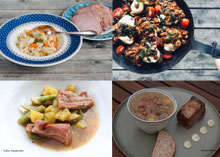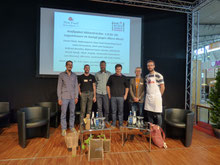 Daniel Diehl (Slow Food), Lutz Mammel (Lauteracher Alb-Feldfrüchte), Fritz Feger (Gutes von hier), Henrik Maaß (TRUE), Wilfried Wunden (MISEREOR), Lukas Grossmann (chef and food stylist)